Carry each other's burdens and in this way you will fulfill the law of Christ. Galatians 6:2
Help each other, be there for each other, take care of each other. This probably sounds about right to those of us who have spent some time in the church. We should do these things, right? Those things sound good. When we hear of someone in need or hurting, our instinct is to help. Carrying each other's burdens, check!
Just a few verses later in verse 5 we read, "Each one should carry their own load."
Well, maybe this sounds right too. Our culture tells us that we're responsible for our own stuff. I take care of me, you take care of you. We may look at someone who's in a tight spot and think it's probably because they made some poor choices. There are no free rides. Look at that, it's in the Bible!
These two verses seem to contradict each other. Which one is it? Share burdens or carry your own load?
In his book Boundaries, Dr. Henry Cloud gives this illustration to explain these two verses. In the original Greek, the word for "load" means "cargo". Something that you'd carry around every day, like a backpack. Everyone can and should carry their own "backpack" - feelings, attitudes, daily responsibilities - because a backpack is a reasonable load to carry.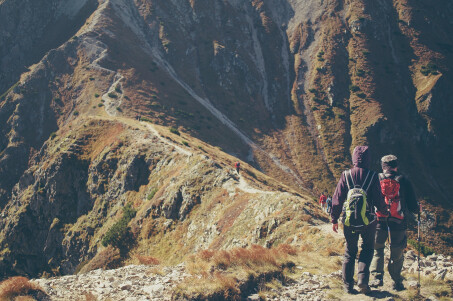 The Greek word for "burdens" means "excess burdens". These are like boulders. Something that is too heavy for one person to carry.
If I try to carry around a boulder by myself, it's not going to go well. It doesn't mean that I am not strong. It means that I am a human who was not designed to carry a boulder alone. To carry a boulder, I need help.
Our culture glorifies individual perseverance and we love a good "pulling yourself up by your own bootstraps" story. It can be uncomfortable and even scary to recognize that you have a need to and ask for help.
If you are stressed, struggling, grieving, feeling alone or dealing with any issue that is shaking your faith, peace or joy, help is available to you at Harbor of Hope through our Pastors, Journey Groups and Compassionate Care Team.
The Compassionate Care Team is a ministry at Harbor dedicated to providing support to those carrying "boulders". Team members along with our pastor, elders and Journey Group leaders are available to talk to you about whatever you are facing. This can be anything from a physical to emotional to spiritual need.
The Compassionate Care Team provides the structure for ensuring that our Harbor family is cared for and no excess burden is faced alone.
If you are facing a "boulder" today, there are a few ways to reach out. Talk to a Journey Group leader, pastor or elder. Fill out a connection card on Sunday morning. You may also email the Director of the Compassionate Care Team at